Sometimes it's hard to explain to our friends and families what we do and how truly remarkable it is. Did you see that spacecraft launch? We have a part on that vehicle. Have you ever appreciated a military jet at an airshow? Yep, we have parts there, too. And what about all the projects we can't share just yet because they are cutting-edge technology or potentially classified? Too many to count.
Our team solves some of the most complex and demanding challenges faced by the aerospace industry. We're proud of the work we do and all the members of the team – sales reps, engineers, buyers, project and program managers, technology support, communications, and more – who work together to solve customer challenges.
WE CARE ABOUT OUR WORK, OUR ASSOCIATES, AND OUR COMMUNITY.
OUR MISSION
TO PROVIDE QUALITY ACTUATION, ROTATING COMPONENTS, AND RELATED PRODUCTS AND SERVICES, DELIVERED TO THE AEROSPACE AND DEFENSE MARKETS ON TIME AND AT A REASONABLE PRICE.
Our Core Values
Our capabilities and solutions are a direct reflection of the talent of our team and the culture of collaboration we foster. Our success is driven by four simple core values: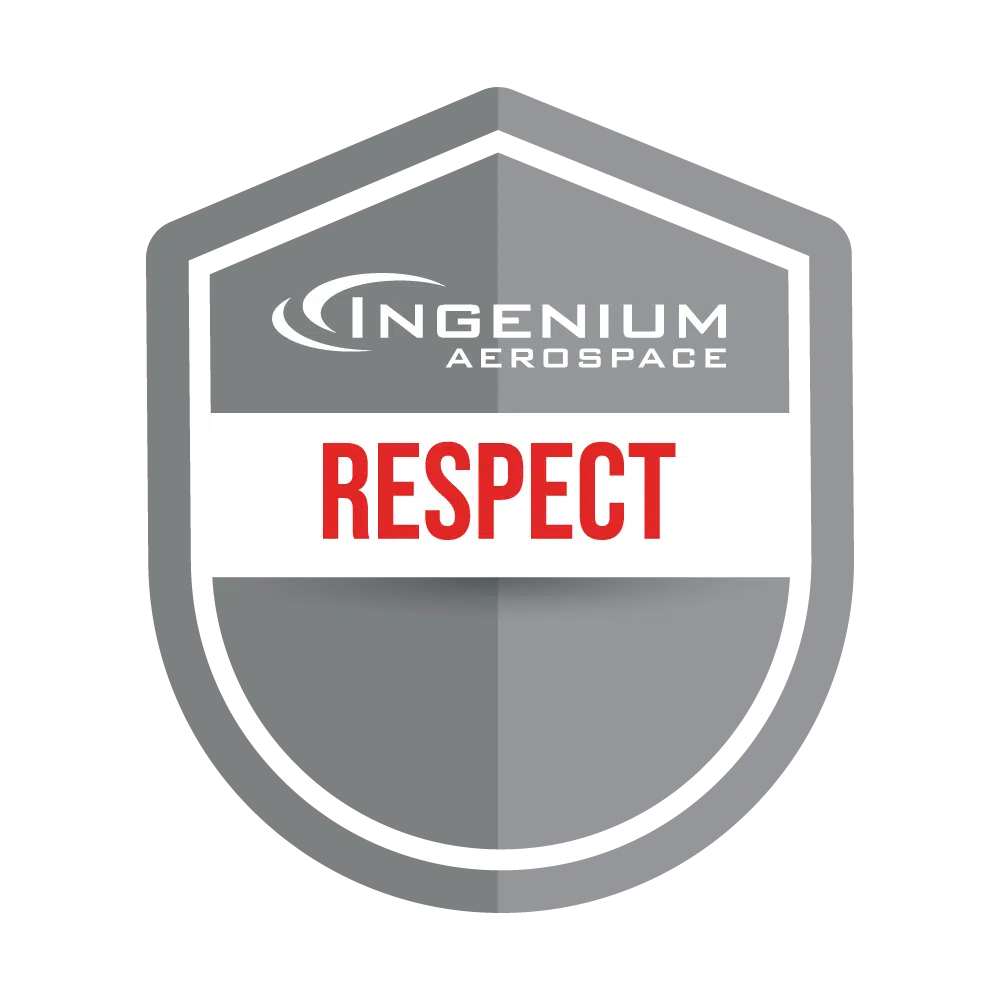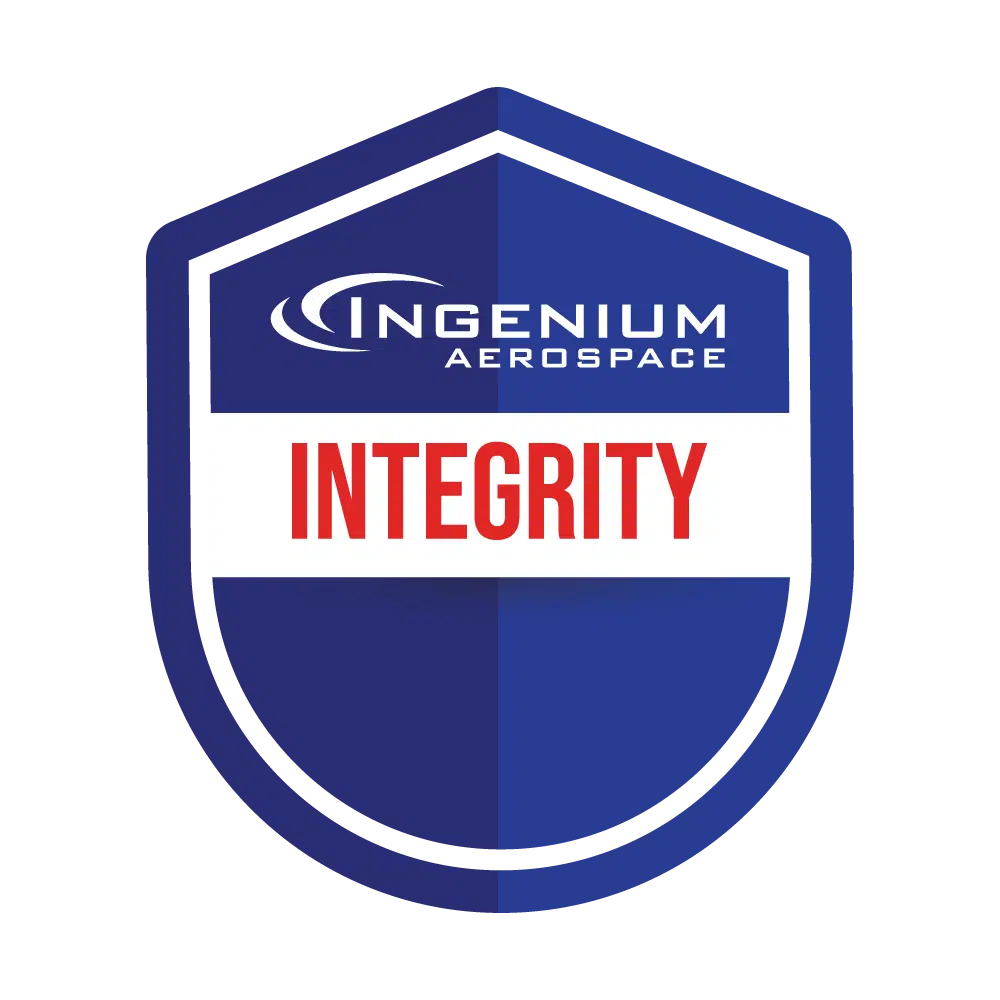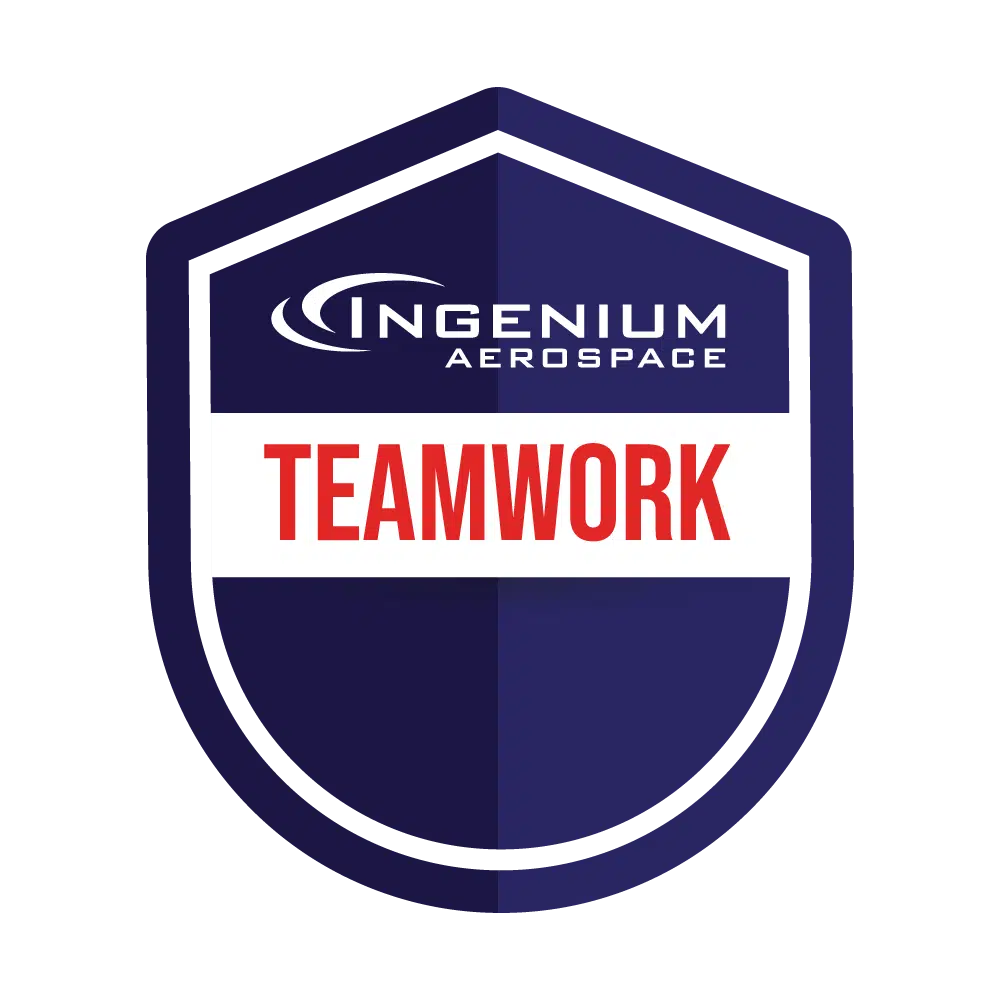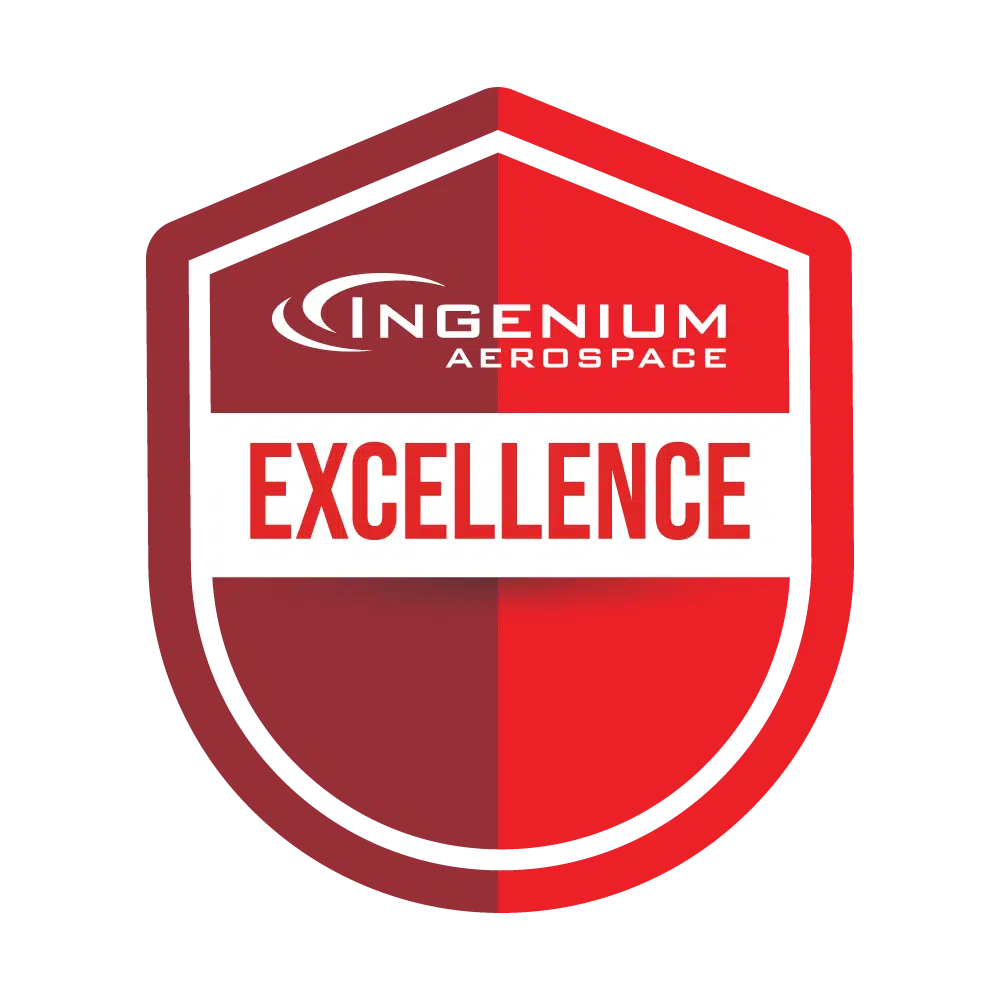 Our Culture is Intentional
We have a flat organizational structure. New engineers will work side by-side with seasoned veterans. Associates will directly impact programs on day one. Our leadership has an open-door policy and is interested in what our associates have to say.
Our goal is to be the employer of choice. We've blended a friendly, small business environment with cutting-edge projects and benefits that compete with large corporate packages.
Diversity of thought, background, talent, and perspective is important to our success. We actively work to ensure our teams are diverse and inclusive.
Everyone must grow. Ingenium invests in the professional and personal development of each associate.
Community matters, too. We support and encourage our associates' involvements and contributions to our region. If it matters to them, it matters to us.
Don't Take Our Word For It
Hear what our associates have to say
"From day one it felt like I was a part of the team, and I truly felt like I was a valued member. At Ingenium you really feel like your voice is heard. You always have an opportunity to improve yourself along with the company."
- Angel, Quality Control Technician
"Ingenium is a great company to work for.  The people are awesome, the work is interesting, and the owners genuinely care about each person.  I enjoy the work environment where everyone works well together and has fun while being productive."
- Sue, Materials and Planning Specialist
"In my first 10 years of aerospace experience, I had stalled and felt that I was not making enough of a difference. I wanted to work in a place where I could be more than just a number. I wanted to work where effort on my part would make a difference and be noticed and appreciated. I desired mentorship by knowledgeable and experienced team members to grow my skills. I wanted opportunities to take on more responsibilities, not be pigeon-holed into one job description. These are job qualities that attracted me to Ingenium. Any person who is driven, knowledgeable, and wants to be challenged while learning on the job should apply – these people excel here at Ingenium Aerospace."
OUR Community
Ingenium Aerospace is home-based in Rockford, IL, a booming aerospace cluster that is the 6th largest hub of aerospace innovation in the nation. The region is home to four tier-one companies, and more than 250 suppliers throughout the aerospace supply chain. For those passionate about the industry and where it's going next, opportunities abound!
Rockford is also a wonderful city, full of authentic, original people, places, and traditions. Here are just a few of the things that make Rockford a great place to live, work, and play!
Want to learn more? Visit gorockford.com for more things to see, do, and experience in Rockford!
Life centers around the Rock River, and the waterfront is home to arts and music festivals, museum clusters, parks, gardens, and more.
We have hundreds of restaurants including plenty of your favorite chains and some amazing local restaurants. Who's hungry?
Long known as the Forest City and City of Gardens, Rockford is proud of its 10,000+ acres of parks and forest preserves. The Rockford Area has 25 miles of interconnecting trails for biking, hiking, roller-blading and more plus a dozen golf courses to hone your game.
Rockford is big enough to host plenty of cultural events but small enough to make them affordable. Add to that our metro-quality museums and there's always something new and fun to see and do.
Rockford is a rockin' city, home to rock 'n roll legends, Cheap Trick! We're also home of the Rockford Peaches and the world famous sock monkey.
Contact Us
Want to learn more about joining our team?
Contact us today!